Summer holidays in Hochfilzen
Family holidays in the Kitzbühel Alps
There are many lovely hiking regions available for a summer holiday in Hochfilzen: Whether the Steinplatte in Waidring, the Buchensteinwand with the famous Jakobskreuz or the wide-ranging area of the "Kitzbühel Alps" – everyone will find what they like on a walking holiday in the Pillerseetal Valley!
Experience the green, gentle mountain areas, high peaks with outstanding views and an unforgettable summer holiday with the family in Tyrol. In addition to swimming pools, bathing lakes, archery route, stables and tennis courts are available in the Pillerseetal Valley with a total of 800 km of cycling and mountain bike routes, which are also perfect for e-bikers
Bikepark Leogang
Bikepark Leogang, only 9 km away, has an unbelievably diverse offering for all bikers – whether beginners, pros, pleasure bikers or downhill crack! Single trails, freeride or North Shore – 9 different routes promise pure excitement and are the absolute challenged for every bike fan who wants to push their limits.
Summer in the Pillerseetal Valley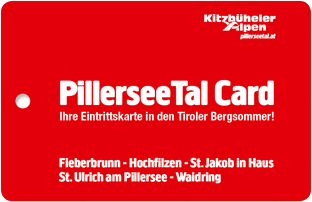 The Pillerseetal Card
Purchase the PillerseeTal Card and enjoy many free entries to the most beautiful attractions in our region. It pays off!